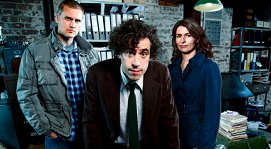 Dirk Gently was the great Douglas Adams' creation forever overshadowed by the undisputed work of genius that was
The Hitch-Hiker's Guide To The Galaxy
(whose title, incidentally, was reworked into our own TV reference guide
The Sci Fi Freak's Guide To The Televisual Galaxy
so thanks for that Douglas).
A standalone pilot episode for a series based on the character of Dirk, a detective who believes in the interconnectedness of all things and therefore whose investigations are somewhat unorthodox appeared in December 2010, but it's taken until now for the following three part series to emerge. This is probably down to show writer Howard Overman having to put episodes of the BBC's own
Merlin
and E4's
Misfits
to bed before getting around to this.
The new series starts on Monday March 5th, but might have gone right past us since we haven't seen anything in the way of publicity for it.
Our reaction to the pilot is to be found
here
and we'll be reviewing the series episodes as we see them.