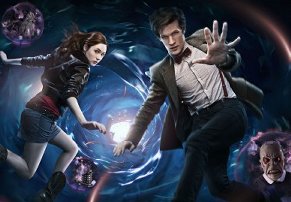 "Amy and Rory are trapped on a crashing space liner, and the only way The Doctor can rescue them is to save the soul of a lonely old miser, in a festive edition of the time-travelling adventure, written by Steven Moffat. But is Kazran Sardick, the richest man in Sardicktown, beyond redemption? And what is lurking in the fogs of Christmas Eve? "
That's the synopsis of the Doctor Who Christmas special, the first to presided over new showrunner Steven Moffatt. Since Dickens and crashing space liners have already been covered during Russell T Davies' tenure as the master of the TARDIS, we can't help but wonder what the Moff is up to.
I guess that we'll find out on Christmas Day when the BBC's flagship science fiction show once again anchors the festive programming.
The last versio of this tale that the BBC produced was a comedy version starring Doctor Who actress Catherine Tate
Nan's Christmas Carol
in which previous Doctor David Tennant also appeared.