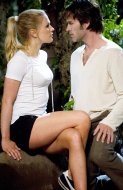 Sunday is to become the UK's Vampire Night as two popular shows return for their fourth seasons.
There's
TRUE BLOOD
, the story of Bon Temps, a deep south US town where everyone is apparently some sort of supernatural being. Sookie is a telepath and her true love Bill is a vampire. This is a decidedly grown up show with lashings of blood and more than the occasional amount of nudity thrown in.
Then there's the BBC's own vampire show
BEING HUMAN
in which vampires, ghosts and werewolves share a house. It sounds like the start of a joke, but this has been consistently one of the best supernatural shows for grown up people of the last few years. It is also probably a good time for new viewers to join the fun as the climactic events of last year's finale will necessitate some sort of reboot.
So, if vampires are your thing then Sunday is going to be your day.