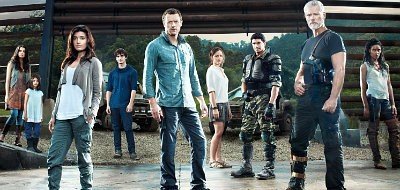 Word is that the Fox Network in the US has cancelled the time-travelling series
TERRA NOVA
after the first season.
The show, which saw pioneers from a shattered future going back in time to a prehistoric past to build a better world in an alternate timeline. They were faced with a rogue group of humans and, very occasionally, the odd dinosaur here and there.
The show will be offered up to other networks, but the cost of dino-creation and location shooting makes it an expensive proposition for anyone and any paring back on the dinosaur appearances would be to remove them altogether and they were the lure rather than the prehistoric soap operatics that were finally served up.
Steven Spielberg's name was plastered all over the show in the publicity, but his big screen touch of gold wasn't evidenced here.