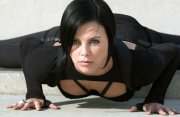 Charlize Theron is a top model turned actress who has an oscar under her belt for uglying up to play a serial killer. Whilst she might argue that she's no genre icon since she's been in any number of non-genre movies, we beg to differ since she's been in enough sci-fi and fantasy flicks to meet our criteria (which is if we want you in, you're in).
Theron made her genre debut in 1995's CHILDREN OF THE CORN 3:URBAN HARVEST, but she probably came to most people's notice when she appeared (pretty much all of her) in the over-the-top but highly enjoyable DEVIL'S ADVOCATE where she proved to be one of the best things since Keanu was just looking pretty and Al Pacino was overacting to the nth, oth and pth degree.
She cashed in on the success of that by taking the lead role in the giant gorilla remake MIGHTY JOE YOUNG (1998) which was acceptable family fare, boosted by her committed performance in making us believe she was sharing the screen with a giant gorilla. Immediately afterwards, she worked with Johnny Depp in the misconcieved THE ASTRONAUT'S WIFE(1999), which managed to completely waste the considerable talents of its two stars whilst hoping to get by on their sheer good looks.
That kept her out of the genre for a few years, but she was tempted back for the equally misconceived AEON FLUX that should have been so good, but was, in fact, so bad. That experience might have put her off altogether, but she came back again for the so-so, but fun HANCOCK with Will Smith and the hard, but worthy THE ROAD with Viggo Mortensen (2008 and 2009 respectively).
She's currently in the cast for the potentially alien-linked Ridley Scott production PROMETHEUS as well as the mooted MAD MAX:FURY ROAD and playing the evil queen in SNOW WHITE AND THE HUNTSMAN, all of which qualify as genre. Perhaps we've won her back.
Theron is, as far as we are concerned, The Most Gorgeous Woman In The World TM, but she is also an excellent actress who brings intelligence and emotion to any role that she takes on. Whatever the quality of the film she is in (yes THE ITALIAN JOB we're looking at you) she is always worth watching and not just for the eye candy.