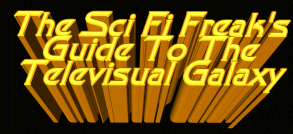 The Sci Fi Freak Site is proud to announce the release of the Sci Fi Freak's Guide To The Televisual Galaxy.
This is the first book produced by the site which provides reviews, cast and episode lists of hundreds of science fiction shows as seen on television along with episode plot summaries and ratings for those shows that have been reviewed on the site itself. This provides an invaluable resource of information when you just can't be bothered to boot up the computer to look at Wikipedia or hours of fun browsing for stuff that you had forgotten you ever saw or stuff that you never even knew about that might be worth a look.
At 616 A4 pages, it's a comprehensive guide to nearly 300 television productions from the 50s to the present day.
And you don't have to worry about it going out of date or needing to buty a new one each year as annual appendices will be produced that update the one that you've got.
It's available from
lulu.com
in both printed and download format.
Enjoy